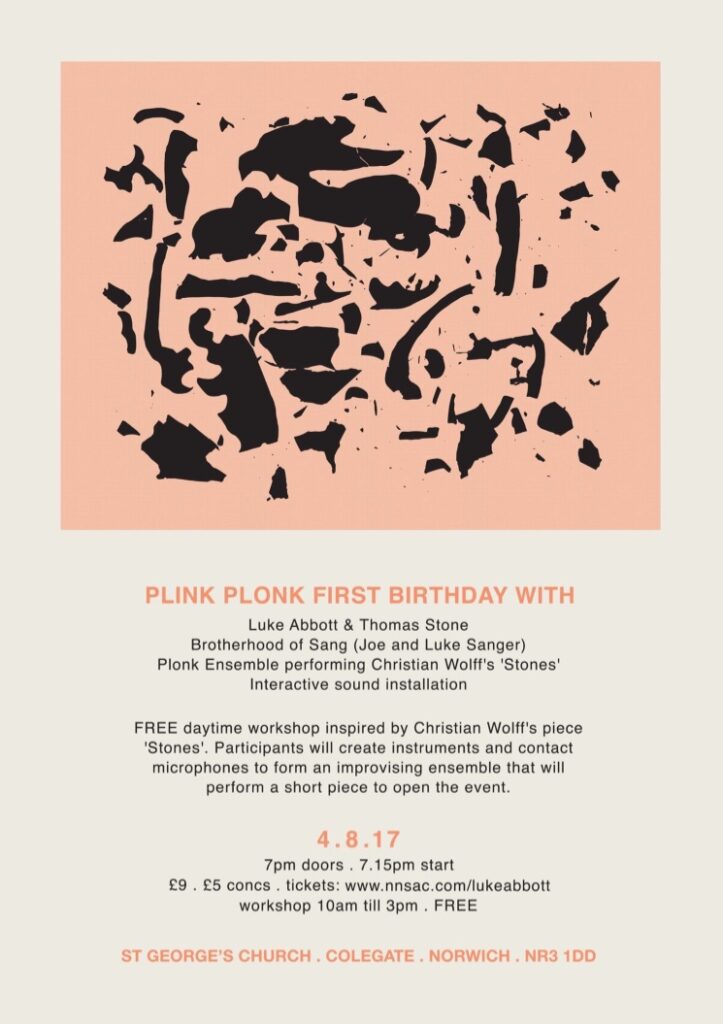 The 4th August 2017 marks 12 months since our inaugural Plink Plonk show (featuring David Ross and John Butcher) and to celebrate all we have achieved since then, we're delighted to present a very special programme of improvised music and collaboration:
Luke Abbott (modular synth) & Thomas Stone (contrabassoon and activated percussion)
Brotherhood of Sang (Luke Sanger (modular synth) and Joe Sanger (shakuhachi))
Plonk Ensemble perform Christian Wolff's 'Stones'
'Resonant Structures' – an interactive sound installation by Oliver Payne
FREE workshop with electronics improviser David Ross
Luke Abbott is a Norwich based electronic music composer, producer and improviser. Having made a career in club-friendly, cerebral dance music including the highly acclaimed 'Holkham Drones', Luke has also made significant contributions to electronic minimalism (with his piece '555Hertz, a homage to Terry Riley), soundtrack music (his excellent score to Guy Myhill's 'The Goob' winning him the 'Best Music' award at the Stockholm Film Festival) and collaboration.
Most recently Luke has been working on improvisational collaborations in projects such as the hypnotic Szun Waves with percussionist Laurence Pike and saxophonist Jack Wyllie.
Thomas Stone is a contrabassoon player and composer of electro-acoustic music, he graduated of Norwich University of the Arts in 2011. Thomas' attractive music has blurred the boundaries between electronic and acoustic sound production, winning him the NonClassical Records battle of the bands in 2015. Thomas has had music released on Champion Version Records.
Joe Sanger is a musician and educator from Norwich, currently living in Hiroshima, Japan. Joe is a master shakuhachi player and has the performing name 'Myoushin'. Joe is a maker of acoustic and electro-acoustic instruments and has most recently worked with artist Jake Bee and composer Duncan Hendy. Joe was fortunate to meet Bob Gilmore, an expert in the compositions of Harry Partch, from whom he learnt a great deal about microtonal theory which informs much of his musical output.
Luke Sanger has a rich history of electronic music production, sound design and composition for TV and film. Having been born in Norfolk, Luke has lived in many places around the world where he has performed and released over 20 records and collaborations. Luke now lives in Norwich where alongside presenting an electronic music based show on Future Radio, composes original music for TV and film and performs wheezy, psychedelic ambient music from a bespoke modular synthesiser.
The Plonk Ensemble is the temporary performing name given to the participants of the 'Stones' workshop. Throughout the course of the day, ten participants will build bespoke microphones to amplify their individual instruments which will be used remotely so that each member of the ensemble can use any area of the church to perform.
'Stones' is about using stones of varying sizes to create sound and texture, either on their own, used with other objects or rolled or struck on instruments (for example), the workshop will focus on deep listening and meaningful spontaneous collaboration and so the performance – which will open the evenings activities – will be a highly sensitive and intimate example of communication composition in real-time.
The workshop is free but spaces are strictly limited. Please visit the workshop page for more details and to reserve a place.
Oliver Payne is a sound designer and installation artist from Norwich, his practice focuses on voicing the typically inaudible. Oliver tends to create site specific work, often working with the purist elements of the environment where the work is located. 'Resonant Structures' is an interactive installation created from a large sheet of prefabricated cladding which using surface transducers, uses feedback which can be manipulated through touch, to produce equally alarming and attractive pulses of sound.
Supported by Norfolk County Council's Art Project Fund.