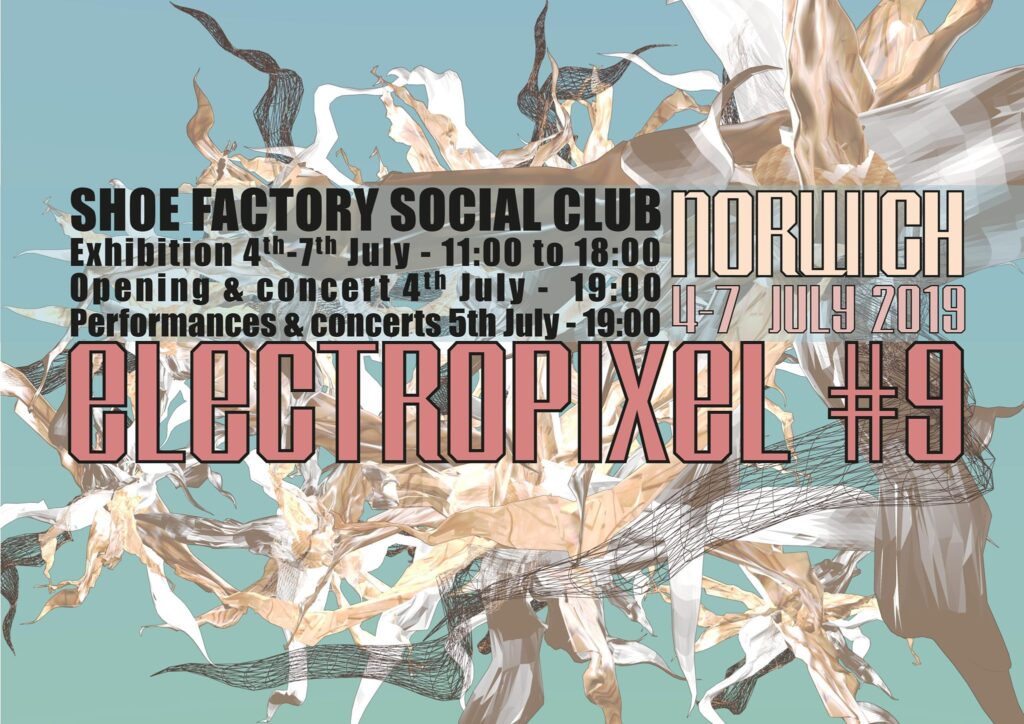 //////////////////////////////////////////////////////////////////////////////
PROGRAMME ELECTROPIXEL NORWICH
///////////////////////////////////////////////////////////////////////////////
((((((EXHIBITION))))))
->4-7th of July
->Opening – Thursday the 4th – 6.30pm + concert Rainforest IV of David Tudor
->visit from 5th to 7th – 11am to 6pm
//with\\
David Tudor
Dime
Souad Mani
Collectif Apo33
Gabriel Vogel
Jenny Pickett
Julien Ottavi
HarshNoiseConsortium
Rosa Menkman
Chloé Malaise
and more!
(((((INSTALLATION-PERFORMANCE))))))
Thursday 4th – free – 7pm
RAINFOREST IV – David Tudor
Fourth version (1973): A collaborative environmental work, spatially mixing the live sounds of suspended sculptures and found objects, with their transformed reflections in an audio system.
"In the first version, I made objects which I could travel with. The object were so small, however, that they didn't have any sounding presence in the space, so I then amplified the outputs with the use of contact microphones. Then for the second version, I wanted to have a different kind of input… because for the first I had used oscillators that made animal and bird-like sounds. In the second version I wanted to use a vocal input to the system, the natural resonance of the object and its subsequent amplification. Its a kind of mechanical filter." David Tudor
With Dime Ensemble and musicians from Norwich
(((((CONCERTS)))))))
Friday the 5th – £6 – 7-10.30pm
Orgone Ensemble – Nantes Percussion Ensemble
https://www.youtube.com/watch?v=wEDtk6IC6t0
Oliver Payne – Sound art and Electroacoustic music
https://soundcloud.com/olpayneinstallations/buxton
Madelaine Pickett – video/glitch
Marc Caro – AV live
https://www.youtube.com/watch?v=E2rCjJbaQ9A
Enerzion – noise DIY electronics
https://soundcloud.com/enerzion/night-of-frightened-neighbors
TheNoiser – Symphonic harsh noise
https://fibrrrecords.bandcamp.com/album/beyond-symphony
Cambia – Critical beats
https://soundcloud.com/papacambia/cambia-live-aduioblast3-session
Jenny Pickett – sensitive noise synth
https://archive.org/details/Canopy_2013
Scherzoteller – glitch cutting edge electronic sound
https://soundcloud.com/scherzoteller/bolero
Dime Ensemble – Electronics & modular synth Ensemble
https://www.youtube.com/watch?v=nH2OUu6EKdk
PyPt Lim – experimental modular synth cocoquantus
https://soundcloud.com/pyptlim/recording-8-v1-16072018
Loula Yorke – drone synth waves
https://junted.bandcamp.com/album/ysmysmysm
—
Evening co-curated with Oliver Payne (NNSAC) & Julien Ottavi (APO33)
///////////////////////////////////////////////////////////////
ELECTROPIXEL INTERNATIONAL
//////////////////////////////////////////////////////////////
Events across several cities Electropixel International represents a series of events forming a network of action over a relatively long period (2 months), which proposes to engage different places across European cities, to present artistic forms in movement.
For this 9th edition, Apo33 plans to create an extended version of the festival in Nantes and elsewhere. Our desire today is to build a new approach to the festival in relation to the problems of our time :
• to participate in a greater decentralization of gallery spaces and arts venues
• to think and formalize new forms of propagation of artistic works.
• to transform the identified spaces into multiple nodal network for the diffusion of arts.
• to create new openings and crossroads for the artistic communities within which we work,
• to transcending geographical, technical and artistic boundaries.
////////////////////////////////////////////////////////////////////////////////////////////////////////
Electronic bodies and the abstract morphology of the real
///////////////////////////////////////////////////////////////////////////////////////////////////////
At the heart of the contemporary world and its issues, the question of the body and its development, its improvement, its enhancement through electronics and digital means, poses many questions to both the thinkers, artists and society as a whole. When we imagine "electronic bodies" we immediately think of ideas of the cyborg and the increasing possibilities of evolving the body through technology.
Donna Haraway tells us that "A cyborg is a cybernetic organism, a hybrid of machine and organism, a creature of social reality as well as a creature of fiction. Social reality is lived social relations, our most important political construction, a world-changing fiction."
It would be both a fiction but also a social relationship and a way of seeing the living from the perspective of the cybernetic. We believe that there may be other relationships between body and machine that are not only those of Norbert Wiener's cybernetics, but perhaps something more distant.
We are not all cyborgs in the making, the relationship to the machine is still external: smartphones and laptops are still the tools we use and they are not integrated or connected to our bodies. Whilst, in some cases these links are stronger, such as chips embedded under the skin that send out radio signals to communicate with machines, the future seems uncertain, the approaches multiple and open to varying points of view.
Supported by CNC-Dicream