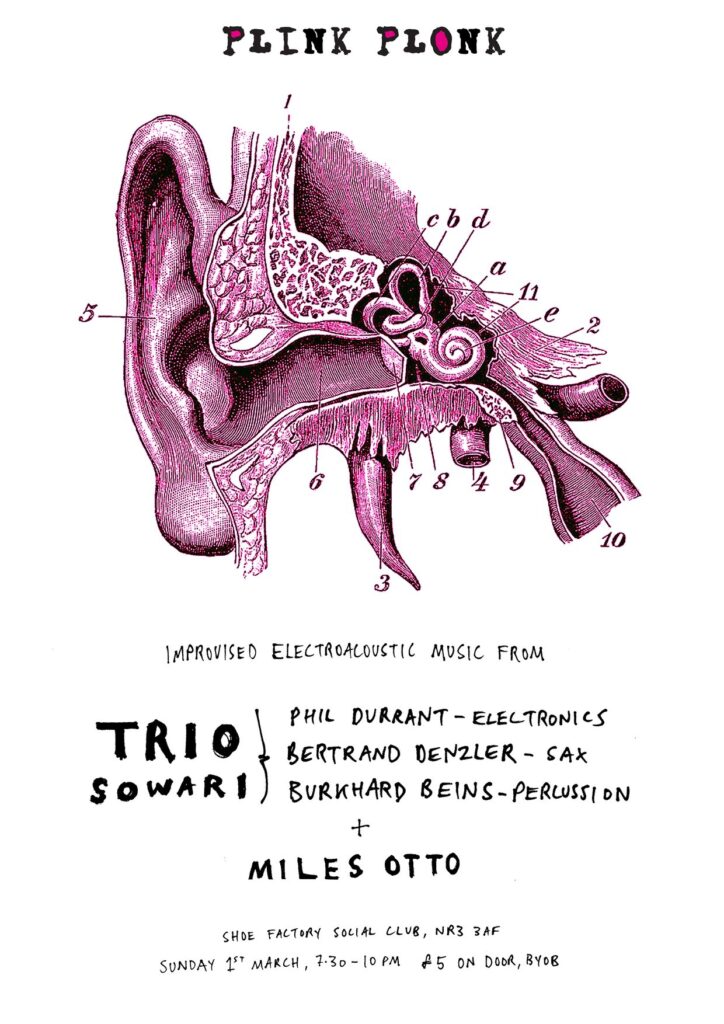 Our 2020 Plink Plonk season kicks off with this wonderful show from the amazing electroacoustic group Trio Sowari, with support from Norwich-based electronic artist, Miles Otto.
Trio Sowari:
Phil Durrant – modular and software synthesizers
Burkhard Beins – percussion and objects
Bertrand Denzler – tenor saxophone
"Moving within evolving electro-acoustic fields Trio Sowari investigates their asymmetric structures and multilayered ambiguities. No signs of dystopianism or retrotopianism here, but undaunted and spirited ways of facing a complex and bewildering present.
The group brings together an English electronics specialist, a Swiss/French saxophonist and a German percussionist, all of them highly committed to the European contemporary experimental music scene. As members of ensembles like Mimeo, Hubbub, Polwechsel and countless others, they have released their music on labels such as Another Timbre, Erstwhile, Matchless, Potlatch, Confront, Hat Hut, For4Ears, Emanem, Leo, and many others.
Since its foundation in 2004 the group has played innumerable venues and festivals all across Europe.
"This is disciplined, focused music, the sound of people really thinking and playing, and close attention is consistently rewarded."
– Clive Bell, The Wire –
"Musicianship and creativity of the highest order."
– Dan Warburton , ParisTransatlantic –
"The result of these alluring and positively sensual investigations is a dense and coherent sound composed of a myriad of building blocks, which allows both for macro- and micro-listening."
– Tobias Fischer, tokafi –
"It's unclear how or what they've done, but surely Trio Sowari has done it again."
– Mark Corroto, All about Jazz –
Miles Otto:
Miles Otto mixes experimental ideologies with tried and tested dance music languages using a variety of electronic hardware instruments. Described as 'Retrofuturist' by Electronic Sound Mag, Miles Looks ahead whilst paying respect for whats behind.
Miles is especially known for his energetic live performances that involve lots hands on equipment and improvisation.