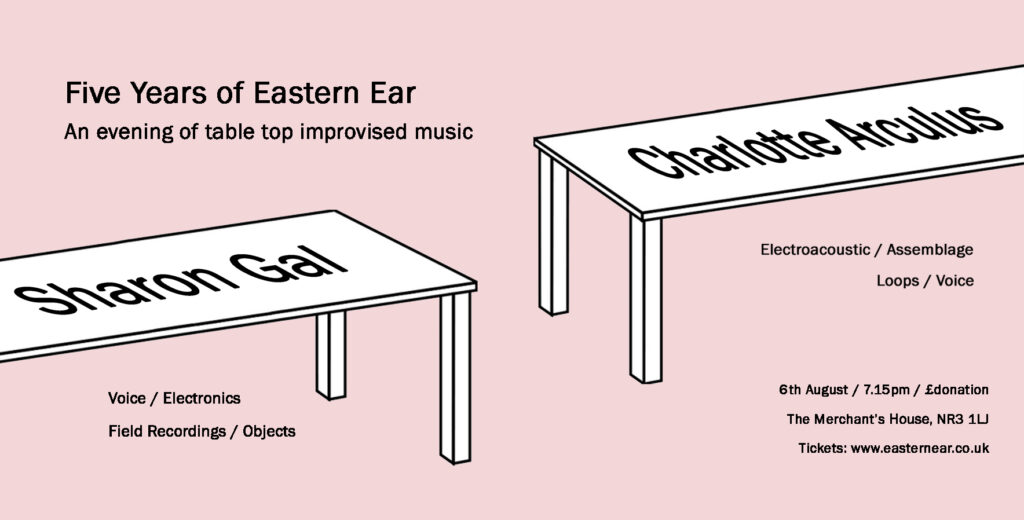 Join us to celebrate Eastern Ear's fifth anniversary at this very intimate Plink Plonk.The evening will feature two table top improvised performances from Sharon Gal and Charlotte Arculus. We will also be showing a selection of printed photographs from events over the past five years.The event will take place in the courtyard at The Merchant's House, Norwich (the venue for our inaugural Plink Plonk). Tickets are reserved via Eventbrite link below, tickets are free although we are inviting donations.Covid related precautions will be shared nearer the event but please be aware this is a seated event. 6th August / 7.15pm / £donation The Merchant's House, NR3 1LJ.
Sharon Gal is an interdisciplinary artist, performer, vocalist, free improviser and composer. Her work explores presence, listening, embodiment, and the relationship between people, sound and space.She performs solo and in collaborations with David Toop, Steve Beresford, Phil Minton, Charles Hayward, Lina Lapelyte, Andie Brown and Blanca Regina.She directs site specific, participatory group compositions: L'esprit D'escalier for Voices in a staircase, Toy Orchestra & Room to Breathe with children/adults, Long Drone for mixed ensembles, Gals with Guitars with female players, Sound Out for M/Any Voices and Feel the Noise for guitars & micro amps.Her music is released by many labels, with two solo releases last year: Delicious Fish & The Garden of Earthly Delights.Performances include: V&A, ICA, Whitechapel Gallery, Arnolfini Gallery, Tate Modern and Tate Britain, MACBA, and Colour Out of Space, Borealis, Supernormal festivals.
Charlotte Arculus is an artist-animateur and maker of visual theatre and immersive environments. As director of Theatre of Adventure (1997-2009), Charlotte produced interactive, improvised and situated pieces where the audience become part of the performance. She's the artistic director of Magic Adventure, a company that creates large, multi-arts installations and co- creative director of Magic Acorns, a collective of artists focussing on raising the profile of world-class art for the youngest audiencesRecently Charlotte has been developing an exciting electroacoustic practice, coined The Arculutron. The Arculutron is an open-ended encounter within the intersections of acoustic, electronic & digital sound, light & shadow, found object and visual & kinetic art forms. It is an emergent space which reimagines Charlotte's extensive work in the realms of installation making, immersive theatre and improvisation. For this performance Charlotte will be bringing the spirit of The Arculutron to create an assemblage of electronic and acoustic loops and sounds.